Studio Equipment
---


SYNTHESIZERS AND DRUM MODULES
Keyboards: Roland alphaJuno-1, Juno-106, JX-8P; Korg 707.
Synth Modules: Roland D-110, two JV-880's, XV-5050; Kawai K1r, K3m; Korg Wavestation SR; Yamaha FS1R, TX81Z; E-mu Proteus/3 World.
Samplers: Yamaha A3000 V2.
Drum Modules: Roland TR-505, TR-626; Yamaha RX-5; E-mu Procussion.
Synth Expansion Cards: Roland SR-JV80-02 Orchestral, SR-JV80-15 Special FX Collection, SRX-01 Dynamic Drums, SRX-03 Studio-SRX, VE-RD1 sound expansion card for A90.
---


MIDI HARDWARE
Main Controller: Roland A-90EX 88-key master keyboard.
Sequencers: Roland MC-50; Yamaha QX-21.
Patchbays: Roland A-880; Kawai MAV-8.

---
72-TRACK DAW
Hardware: Mac G4/1.25Ghz, 1.75gb RAM, 80gb and 120gb hard drives, OSX 10.3.9 Panther/OS 9.2.2; MOTU 2408mkII core system including PCI-324 24/96 audio interface card, 2408mkII I/O box, and Apple 32x/10x/32x CDRW.
Software: MOTU Digital Performer 3.11 DAW, Audiodesk 2.03; Roxio Jam 6 CD mastering software and Toast Titanium CD recording software; BIAS Peak 4.13 sound editing software; Waves Gold Native V5 Suite, IR-L, and Tune LT plugins.

AUDIO/BROADCAST PC
Intel P4 3Ghz, 1gb RAM, 2x80gb hard drives, Windows XP Professional; SoundBlaster Live! Audio card; Sony DRU-510 DVD/CD writer; M-Audio Studiophile DX4 monitors; Wavelab 4.0, Soundforge 5.0; Nero 6; DRS2006 3.0 Broadcast software.

Other Computers
Intel Celeron 2Ghz; Mac G3/400, IIsi; HP Vectra VL6 PII-266 clone.
---
RECORDING/PLAYBACK EQUIPMENT
Digital: Tascam DA-30mkII DAT recorder; Optimus DCT-2000 DCC recorder; Sony MDS-JE510 MD recorder; Technics SLPG-480A CD player.
Analog: Tascam 488 8-track cassette recorder, PortaOne 4-track cassette recorder; Aiwa WX-616 and AD-F800 2-track cassette decks.

---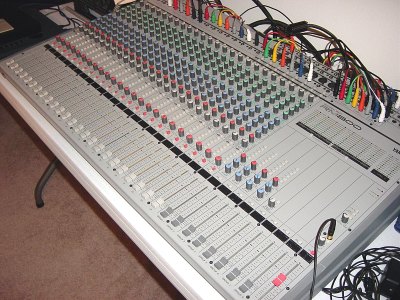 MIXING CONSOLES
Main Console: Yamaha RM800 24x8x2 mixing console.
Auxiliary Mixers: Yamaha MG12/4 12x4 mixer; Roland M-240 24x2 keyboard mixer; Boss BX-800 8x2 line mixer.

---
EFFECTS PROCESSORS
Digital Reverbs: Roland SRV-330; Korg DRV-1000.
Multi-FX Processors: Lexicon MPX-550; TC Electronic M-One XL; Alesis Midiverb 4; Quadraverb Plus; Korg DRV-2000.
Signal Processing: Behringer Autocom compressor/limiter; Akai PEQ-6 programmable EQ.
Guitar Rig: Tech-21 Sansamp GT-2 guitar preamp; TC Electronic M-300 multi-FX processor; Roland Cube-40 amplifier; Boss CE-300 Super Chorus; various analog FX pedals.

---
MICROPHONES
AKG C3000 condenser; Shure Beta-58A and 14L dynamics.

---
STUDIO MONITORING EQUIPMENT
Amps: Alesis RA-100 studio reference amp, Kenwood KR-A5040.
Speakers: Alesis Monitor One NF monitors; Yamaha NS-A825 speakers, YST-M40 multimedia speakers; Optimus Pro-7AV monitors.
Headphones: AKG K270S studio headphones.
Other: Stereo 10-band frequency analyzer.

---
GUITARS
Steinberger Spirit GT-Pro guitar, Spirit XT-2 bass guitar; Ibanez AEG10 acoustic-electric guitar; Memphis strat and bass guitars.
---
OTHER EQUIPMENT
Samsung VR-8705 VHS Hi-Fi recorder; Admiral 19" TV monitor.